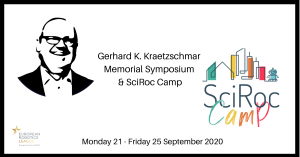 The Gerhard K. Kraetzschmar Memorial Symposium and the SciRoc Camp will be held from Monday 21 September to Friday 25 September, 2020.
The symposium is a week long summit of robotics talks to commemorate the life of Prof. Dr. Gerhard K. Kraetzschmar (1961 — 2019). Experts in various fields of robotics, from around the world, and who have worked with Prof. Kraetzschmar for decades, will share key insights and their take on the current state of robotics.
The SciRoc Camp is an online event for sharing information on advances in robotics benchmarks. The event aims to connect robotics benchmark developers and robotics researchers around the world. At this camp, the world's top robotics teams will share their latest results through a webcast.