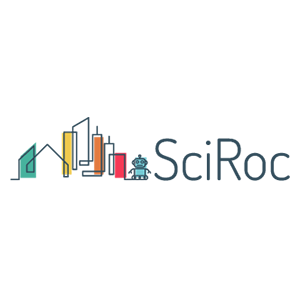 In September 2019, Milton Keynes, UK successfully hosted the first Smart City Robotics competition 'SciRoc' funded by the H2020 EU programme. The aim of the competition is to highlight the huge potential for the development of robotic applications in the context of a Smart City.
The first SciRoc challenge was held in a Milton Keynes shopping centre in September 2019 and attracted a great amount of excitement and interest from the public and the media.
The first SciRoc challenge was focused around five "episodes", i.e. technical settings where robots' capabilities are evaluated with the contribution of the general public; you can read more about the challenge and episodes here. The first SciRoc challenge had a tremendous impact for the Smart City of Milton Keynes, hear what stakeholders and sponsors said in the full video.
SciRoc's vision is to create a long term biannual competition with the second event in 2021 acting as a milestone towards this goal. The aim of this call is to select the host city for the second SciRoc challenge through an open process, as a first key step to making the Smart City Robot competition self-sustaining for the coming years. Hence, we seek Smart Cities to submit a proposal for hosting the second Smart City Robot competition in 2021 (preferably in the fall). 
Benefits to the host city:
Using robots to demonstrate your Smart City in action!
Collaborate with your citizens, giving them a platform to understand the future of AI and robotics
High media visibility to investors
Establish new connections with worldwide technology brands and sponsors
Strengthen the city's reputation within the scientific community
Requirements:
The candidate city should provide a suitable location and infrastructure for the competition as well as the human resources to support the design, organisation and management of the event. SciRoc will provide the technical expertise and support to organise and run the specific robotic challenges that will be defined for the event. We will also support the process of attracting global industrial sponsors.
Next steps:
Interested parties should submit their interest using the contact form below. On receipt of this form we will email a bidding package, which will provide a template for the full proposal submission, along with all the relevant information needed for the implementation of the second SciRoc challenge.
Key dates:
The candidate cities should apply by sending an expression of interest by December 15th 2019. This can be done by completing the contact form below.
A full proposal will then be required by February 15th 2020.
The selected Smart City hosting the second SciRoc challenge will be notified by February 28th 2020 and publicly announced during the European Robotics Forum March 3rd – 5th 2020. 
---
Submit your interest in hosting SciRoc 2021 by completing the form: