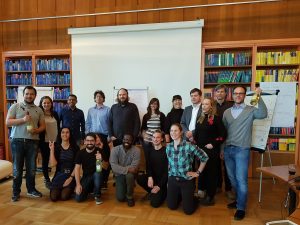 On 26-27 April 2018, Angelo and Francesco attended the third edition of the Springer Nature Hack Day, which was held in its headquarter in Berlin.
The Springer Nature Hack Day is an event that allows researchers, developers, tech companies, and Springer Nature itself, to gather together and tackle current research issues. Offering also opportunities for potential collaborations and networking.
This was Angelo's second time attending a hack day organised by Springer Nature. Indeed, with Andrea Mannocci and Thiviyan Thanapalasingam, he attended the previous edition, back in November 2017, working on a Venue-centric trends project (read full story here). An extended version of this project has then been presented at the SAVE-SD workshop co-located with The Web Conference 2018 [1].
In this edition, the participants pitched six different ideas and projects, centred around "analytics and metrics to measure the impact of science", such as: Disease Dashboard, Hot Topics (our project), Keyword Recommendation, Data mining for historians, Search-Assist, and Semantic Entity Marker. More information about the whole event can be found in this Springer Nature blog post.
Our team worked on the 'Hot Topic' project, which aims to understand what is the focus of Innovation in the Tech Industry? In particular, based on the papers downloaded by tech companies, in the period 2015-17, we performed an analysis of their content to understand which research topics, most of the tech companies, were interested in (research trend analysis). Also, based on the paper metadata, for a given research topic we suggested prominent journals, organisations and authors. This study provides a number of advantages, such as:
Providing better service to Springer Nature industry customers
Providing inspiration to editors to focus on publishing more on the key topics
Understanding the impact of science in industry and media
Bridging industry and academy by suggesting collaboration with expert and organizations
Our team was composed by Anne Lauscher, Angelo Salatino, Francesco Osborne, Jenny Cardenas-Osorio, Thomas Scheidsteger, Jochen Teufel, Eva Volná, Aman Bhardwaj, and Chris Bendall.
More info about the project here: https://www.salatino.org/wp/springer-nature-hack-day-berlin/
References:
[1] Andrea Mannocci, Francesco Osborne and Enrico Motta (2018): Geographical trends in research: a preliminary analysis on authors' affiliations. Read here: https://save-sd.github.io/2018/accepted/mannocci/index.pdf