This year marks the 20th anniversary of the 'official' birth of the Semantic Web community, as 2001 saw both the publication of the landmark paper on the Semantic Web by Tim Berners-Lee, Jim Hendler, and Ora Lassila, as well as the staging of the 1StSemantic Web Symposium (the precursor to the International Semantic Web Conference series), which took place at Stanford, California, in July 2001.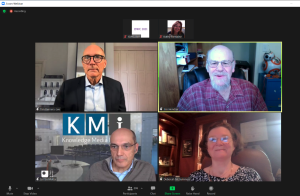 To celebrate this 20th birthday, the programme for the 2021 edition of the International Semantic Web Conference (ISWC) included a panel on the topic "Semantic Web Vision and Revision", which saw the participation of KMi's Enrico Motta, alongside Tim Berners-Lee, Jim Hendler (Panel Chair), and Deborah McGuinness. The goal of the panel was to bring together four 'old timers', people who have been involved in Semantic Web research since the very beginning, to assess the current state of the area. In particular, the discussion centred on a number of issues, including: i) what were the panellists' hopes and expectations for this topic back in 2001; ii) to what extent these ambitions have been achieved over the last 20 years; iii) what are the current challenges facing Semantic Web research and iv) what the panellists expect it will happen in the future.
More than 200 people tuned in to the event, which provided a very lively debate on the strengths, weaknesses, opportunities and risks for the Semantic Web community. The themes that were highlighted include the work of Tim Berners-Lee on the Solid platform, the growing importance of hybrid architectures combining semantic representations with neural network algorithms, the role of semantic technologies in fighting disinformation, and the importance of better tools for both application developers and users of Semantic Web solutions
Overall, the panel was very successful, with an excellent level of audience participation.  And the final message from the panellists was very clear: while the past 20 years have been great, the future for the Semantic Web community promises to be even more exciting and fun.