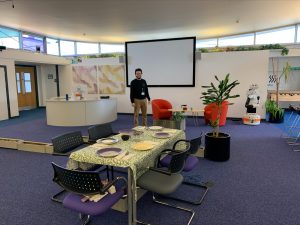 As part of the GATEKEEPER project, our Gianluca is working on autonomous inspection of home environments aimed to identify and map objects of daily living and identify potential hazards. In preparation for the upcoming second review with the project officers, we set up the KMi podium for running experiments and recording a demo.
The TiaGo was able to complete his exploration, identify objects, and the pretended bed, dining table and kitchen counter, as well a misplaced chair obstructing a way out of the podium.
The next steps are the connection of the robot with the GATEKEEPER platform requesting human interventions to sort out hazards that it cannot fix on its own.